How to choose the best silk cooling comforter for hot sleeper?
Nowadays more and more hot sleepers like to use silk comforter, and we have introduced why silk is the coolest comforter material, it can help regulate the temperature during sleep and prevent night sweats. Of course, this is only one of the advantages of silk comforter. Compared to other materials, silk comforter has many other advantages. Today, we will introduce you how to choose the best silk summer comforter for hot sleepers by comparing brands and materials.
Brand and price
In many cases, the brand that is very well known is not necessarily suitable for you. Therefore, when we pick a silk comforter brand, we must pay attention to what products are the main focus of the brand's comforter. Because the focus of each brand will be different when it comes to product development, so different brands will have different advantages and disadvantages.
1.HEARTCOSY
HEARTCOSY is a brand that only makes washable silk cooling comforter, and it is very careful in choosing materials. At present, HEARTCOSY is still relatively niche, but it must be said that HEARTCOSY is a new brand that is all about improving the quality of sleep for hot sleepers. 2022 summer, HEARTCOSY developed a silk summer comforter, which is very popular. It is made of high quality mulberry silk with 500g filling for queen size and 600g filling for king size. unlike other brands, HEARTCOSY does not mix other materials at all to ensure the perfect feeling of silk comforter. Summer cooler comforter is made of cool feeling fabric, high grade Tencel, which is very helpful for hot sleepers' sleep as they can feel the amazing coolness directly when it fits to the skin. Now HEARTCOSY silk cooling comforter has better washable technology, more adequate silk filling, softer touch, but the lowest price is only 189$, if you desperately need to improve the sleep of summer nights, we recommend you to choose HEARTCOSY silk summer cooler directly.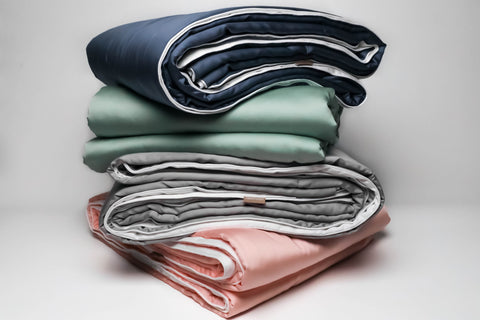 2.Vesta-sleep
Vesta-sleep is one of the more well-known bedding brands, but this brand does not focus on developing silk comforter. Their silk summer comforter is priced at 249$, but the silk filling weight is only 370g. the less silk, the lower the softness of the comforter. In contrast, the cost performance of Vesta-sleep is reduced. Another point worth noting is that the fabric of their silk quilt is not 100% Tencel as they claim, but cotton. Compared to real Tencel, cotton is slightly less comfortable. So for hot sleepers on a budget, Vesta-sleep is not a very good choice.
3.tunatutu
tunatutu's summer comforter is not recommended because it is a completely fake silk comforter brand. Although its price is very low, only 149$. First of all, its filling is not silk, but polyester fiber, a chemical material. Polyester fiber looks very similar to silk, so non-professionals can't tell the difference. The price of polyester fiber is 10 times lower than silk, so there are many businesses using it. If hot sleeper needs to choose the best silk summer cooler, then tunatutu must not be the best choice.
4.THXsilk
THXsilk has a wide variety of silk comforter, but the design is often very old-fashioned and not suitable for most hot sleepers. the brand's Tencel summer comforter is $229, which is a bit expensive in comparison. The filling is inferior crushed silk, not mulberry silk, and the weight of the filling is no more than 400 g. And their fabric is cotton, which does not provide a cool touch to hot sleepers, instead, cotton is more suitable for insulation. In addition, the size of 200×230cm is not suitable for most hot sleepers from the United States or Europe.
Silk types
Hot sleepers must pay attention to distinguish between mulberry silk and crushed silk when choosing a silk summer cooler comforter. Mulberry silk has longer fibers and is softer to the touch. Crushed silk has shorter fibers, which are easy to break down and feel slightly worse to the touch. Mulberry silk is more expensive than crushed silk, and many businesses choose to use crushed silk as mulberry silk in order to reduce costs.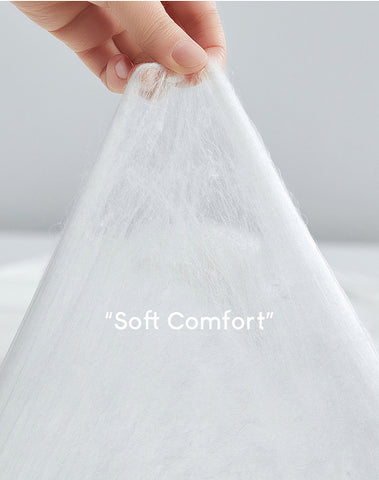 Silk filling weight
A good quality silk summer comforter, the silk filling weight should be kept at 400g-600g. Such a weight will not make hot sleepers feel too hot or too cool, and can perfectly play the breathability of silk. If the silk filling 400g or less, then the night will be too cool, there will be a risk of cold. If the silk fill 600g or more, the night will be too hot.
Silk comforter fabrics
There are four kinds of fabrics that are generally used as silk comforter fabrics, which are silk, tencel, cotton and polyester fiber.
1.Silk
Silk (source: wikipedia) is woven entirely from silk, and it is a rather expensive fabric. It is very cool, but also very fragile, and it usually takes a very large budget to consider buying a silk summer comforter made of silk.
2.Tencel
Tencel is the perfect alternative to silk. It is also a natural fiber that does not produce other chemicals and is safe and non-polluting. Tencel has the softness and good luster of silk fabric, but also has the breathability of cotton. It is a very good choice for hot sleeper at a very appropriate price.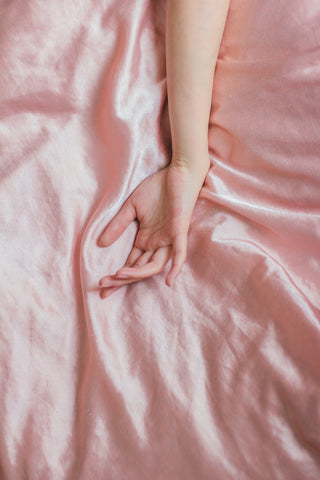 3.Cotton
Cotton is the most commonly used fabric in life, I believe that every hot sleeper has had the same feeling. Cotton has good insulation, but poor breathability, and usually feels stuffy when used in summer. The stuffy weather tends to breed dust mites, which has a negative effect on the skin. Therefore, cotton quilts should be avoided in the summer.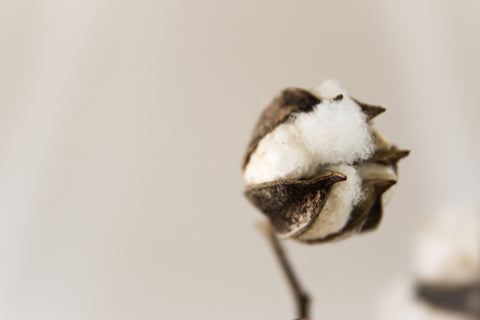 4.Polyester fiber
Polyester fiber is a compound that has the advantage of being wrinkle-resistant and wear-resistant. But in terms of human comfort, there is no advantage to speak of. It has poor breathability and will feel stuffy when used. In addition, its feel is not as smooth as Tencel, and does not fully fit human skin.
Above, we have introduced how to choose the best silk summer cooling comforter for hot sleepers from four aspects: silk cooling comforter brand, silk type, filling weight, and fabric. Heartcosy is a brand worth using for a long time, so try it out, you can never go wrong.
---